Digital Metering
The Energy Max Prepaid solution boasts a flexible architecture, designed to accommodate gradual service expansion and phased implementation. This approach seamlessly integrates with existing technologies, ensuring a smooth transition while optimizing cost-efficiency.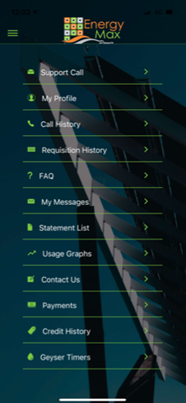 Our technology, developed over the past decade, has a proven track record. Our dedicated team at Energy Max has handled everything from research and development to software and component building, ensuring that our solutions are perfectly tailored to our market's needs and future direction. This not only results in cost savings for you but also allows us to bring new features to the market faster.
The core of our system is the main site unit, which securely stores data and sends it to our central web-based servers. This data is then available on the cloud, ready for you to access through our user-friendly Smart App or on your PC. This main unit is designed with redundancy, ensuring data integrity even in case of network issues.
On the estate, remote metering units control up to 32 dwelling units each, measuring gas, water, and electricity usage through smart meters. These units form a virtual network, communicating with each other via fiber or wireless connections. The data collected by these remote units is then sent to the central unit and, ultimately, to our servers.
With this setup, you have real-time access to your data, giving you the power to monitor and manage your energy consumption conveniently and efficiently. Our architecture ensures fault tolerance at every step, guaranteeing reliable and accurate information for better decision-making.